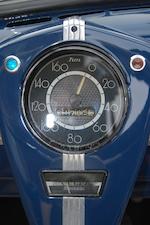 1939 Opel Kapitän Cabriolet
Coachwork by Karrosserie Gläser
Sortie d'usine en juin 1939, moins de trois mois avant le déclenchement de la guerre, ce rare cabriolet Kapitän fut livré neuf à Opel Kandl à Vienne (Autriche) sous le numéro de commande « 592 ». Bien que son style fût fortement influencé par celui d'outre Atlantique, la carrosserie est signée Gläser de Dresde, firme réputée pour la qualité de ses habillages sur châssis Horch et, après la guerre, pour avoir produit les premières versions cabriolet de la Porsche 356. Les projecteurs noyés dans les ailes révèlent un dessin imaginatif et ultra moderne car cette solution était loin de faire l'unanimité, même après 1945.

Il est possible que cette Opel ait été emmenée sur le front de l'est et probablement à Leningrad. Au cours de la retraite, elle fut abandonnée à Tallinn (Estonie) où elle resta jusqu'à sa découverte par l'actuel propriétaire qui en avait retrouvé la trace grâce à ses contacts locaux. Elle avait été équipée entre-temps d'un moteur ZIL. Une restauration depuis le châssis fut donc entreprise à partir de pièces, dont un moteur correct, trouvées dans le Brandebourg. Ces travaux effectués par les réputés restaurateurs du Garage Stenger à Almedo (Hollande) il y a environ douze ans ont parfaitement résisté au temps en raison de la qualité qui avait présidé à leur exécution.

On estime à trois seulement le nombre de voitures de ce type existant au monde, rares survivantes d'un modèle déjà produit en quantité limitée avant la cessation des fabrications civiles en 1940. Chef- d'œuvre de style automobile « Art déco » riche de savoureux détails caractéristiques de cette époque, ce ne peut être qu'une intéressante et inhabituelle prétendante aux honneurs des concours d'élégance.



Son of a locksmith, Adam Opel chose to leave the family firm in 1863, setting himself up as a manufacturer of sewing machines in his hometown of Rüsselsheim near Frankfurt, Germany. The enterprise grew rapidly. In the mid-1880s Opel diversified into bicycle making and by 1895, when its founder died, had become one of Europe's largest manufacturing concerns. It was to be expected that its next move would be into motor manufacturing but Opel's first such venture was an uncharacteristic failure. Now managed jointly by Adam's five sons, Opel acquired the rights to a design by Friedrich Lutzmann and produced its first automobile in 1898. However, by this time the horizontal-engined Opel-Lutzman was somewhat dated and production ceased after only two years.

Opel next turned to the motorcycle market, a line of business that it would carry on until 1932, and revived its motor manufacturing plans in 1902, acquiring the rights to distribute Darracqs in Germany and Austro-Hungary. The cars were imported in chassis form, bodied by Opel and sold under the 'Opel-Darracq' name. Opel soon began developing its own Darracq-based designs and by 1906 had acquired sufficient expertise of its own to severe its links with the French make.
After WWI, during which time it had built trucks and BMW aero engines under licence, Opel succeeded in weathering the financial uncertainties of the early 1920s although output remained low. Updating its Rüsselsheim factory to accommodate a Ford-type moving assembly line, Opel ditched its existing range of models to concentrate on just one design, which was a blatant copy of the successful Citroën 5CV. Known as the Laubfrosch (treefrog) because of its green livery, this new light car first appeared in the spring of 1924, setting Opel on a road to success that would see it established as Germany's largest auto maker by the end of the decade.

In 1929 the American General Motors, seeking to further expand its European interests, acquired a controlling stake in Opel, which was followed by full ownership in 1931. Under General Motors' direction, Opel prospered and by 1938 was not only Germany's but also Europe's biggest motor manufacturer. The firm benefited from technical innovations first applied to GM's US-built products, including 'knee action' independent front suspension and, in the form of the 'Olympia' model of 1936, unitary construction of the chassis/body. As the decade progressed, Opels began to look more and more like their American cousins, a trend that culminated in the firm's final pre-war offering, the Kapitän. Introduced in 1939 and of unitary construction like the Olympia, the Kapitän was powered by a 2.5-litre overhead-valve six and featured independent front suspension which was augmented by an anti-roll bar, a novel idea at that time.
Manufactured in June 1939, a mere three months before the outbreak of war, this rare Kapitän Cabriolet was delivered new to Opel Kandl in Vienna, Austria under order number '592'. While obviously Trans-Atlantic in influence, the coachwork is by Karrosserie Gläser, of Dresden, a firm noted for its work on quality chassis such as Horch and one that in post-war times would be responsible for producing the first cabriolet versions of Porsche's 356 sports car. Headlamps fully integral with the wings mark it out as a particularly imaginative and advanced design, this particular feature not gaining general acceptance until well after the war's end.

It is believed that during the war the Opel was taken to the Eastern Front, probably to Leningrad. During the retreat the car was abandoned in Tallinn, Estonia where it remained until discovered by the present owner, who had learned of its whereabouts through local contacts. It had been fitted with a ZIL engine. A 'ground upwards' restoration was subsequently undertaken using parts, including a correct engine, sourced in Brandenburg. This work was carried out for the current vendor by well-known restorers Garage Stenger in Almelo, Holland about 12 years ago and has held up perfectly due to the high quality of execution.
Only three of this model are know to exist worldwide out of the very limited number built before civilian motor production ceased in 1940. An Art Deco masterpiece of automotive styling featuring a wealth of wonderful period details, it would be a worthy addition to any concours event.