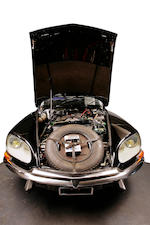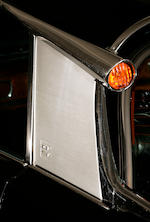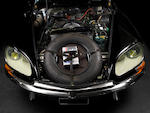 1972 Citroen Citroën DS 21 Prestige finition Chapron ex Philippe Bouvard
Chassis no. 4660218
Dans le cadre de ses productions destinés à la gamme Citroën, Henri Chapron réalise la DS en finition Prestige, avec ou sans séparation chauffeur. Cependant, pour sa propre clientèle, il propose une finition supérieure à la demande. Le client peut alors choisir dans un vaste catalogue d'aménagements.

Ce fut le cas du journaliste de radio Philippe Bouvard, qui commanda cette berline DS 21 Prestige avec une longue liste de modifications : séparation chauffeur habillée de bois précieux, vitre de séparation descendante à commande électrique, poste de radio dans la cellule arrière avec stéréophonie, deux tablettes-écritoire en marqueterie escamotables dans la séparation chauffeur, bar à l'arrière en position centrale, installation d'un radio-téléphone, finition en cuir noir, antennes de réception sur le coffre et le pavillon, etc...

La voiture lui fut livrée courant 1971. Il la conserva jusqu'en 1982, date à laquelle elle fut remplacée par une limousine Peugeot 604 Heuliez dont l'aménagement intérieur fut lui aussi réalisé chez Chapron.

La carrosserie est peinte en noir vernis. Le capot de coffre est équipée d'une poignée chromée de marque GH. Le logo du carrossier est apposé sur le capot de coffre et le nom de ce dernier est inscrit en lettres chromées sur les ailes avant. La voiture est équipée d'un feu arrière de recul, de phares additionnels à longue portée installés derrière des transparents profilés en plexiglas dans la jupe avant. Les pneumatiques sont neufs et les jantes sont équipées d'enjoliveurs de marque Robergel. La moquette épaisse est de teinte gris-souris.

Non-obstant l'élégance et la perfection de cette automobile, il est agréable de savoir que cette unique berline historique a fait l'objet d'une restauration intégrale, carrosserie, intérieur et mécanique par un restaurateur spécialisé.


Among its many productions based on Citroën cars, Chapron offered the DS with 'Prestige' upgrades, with or without a chauffeur's partition, customers being able to choose their own level of finish from an extensive catalogue of options.
When the famous radio announcer Philippe Bouvard bought this Prestige DS 21 he specified a number of such alterations: chauffeur's partition with wood trim embellishment, electrically controlled partition window, stereo radio in the rear compartment, two inlaid retractable picnic tables, central cocktail bar, radio telephone, antennae on the trunk and roof, etc. The car was delivered in 1971 and Bouvard kept it until 1982 when he bought a Peugeot 604 'Heuliez' saloon with Chapron-designed interior.
The coachwork is painted in black while the 'Chapron' logo is found on the trunk, which is opened via a chromium-plated handle, and the coachbuilder's name is written in chromium-plated letters on the wings. There is a reversing light at the rear and additional faired-in long-range headlamps at the front. The wheels are embellished with Robergel wheel trims. The thick interior carpeting is soft grey.
Elegant and perfect, this unique and historic saloon has been fully restored - coachwork, interior and engine - by a recognised specialist.