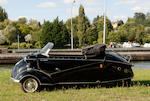 1963 Messerschmitt KR201 Roadster
Chassis no. 79846
Au lendemain de la seconde guerre mondiale, l'Allemagne se reconstruit et, comme tous les pays d'Europe, a besoin de moyens de transport économiques. L'explosion des microcars y sera plus importante que dans les pays voisins, avec des modèles très variés et aux noms bizarres de Dürkopp, Trippel, Kroboth, Goggomobil ou Zündapp. C'est dans ce cadre que va éclore et se développer le plus prestigieux et original de tous, le Messerschmitt.
En 1945, l'usine de fabrication des fameux avions perd l'autorisation de les produire et cherche à se reconvertir à la fabrication civile. Fritz Fend, ingénieur, imagine un petit véhicule économique à trois roues, et le propose en 1952 à Messerschmitt. Le constructeur d'avions accepte de se lancer dans l'aventure et, ensemble, ils mettent au point le KR 175. Doté d'une forme particulièrement originale en cockpit d'avion, il reçoit un monocylindre Sachs de 175 cm3 placé devant la roue arrière. Les deux occupants sont installés l'un derrière l'autre, en tandem. En 1955, Messerschmitt lance une version plus évoluée à moteur Sachs 200 cm3, le KR 200. Avec sa quatrième surmultipliée, l'engin atteint 95 km/h !
A cette époque, l'Allemagne retrouve sa souveraineté et Messerschmitt peut reprendre ses activités aéronautiques. La société de production des trois-roues prend le nom de « Fahrzeug und Maschinenbau Regensburg » (FMR) sous l'autorité de Fritz Fend, et continue à utiliser l'appellation de Messerschmitt.

La production se poursuit alors avec un succès certain et en 1957 est proposé le roadster KR 201. Cette version diffère du KR 200 par un pare-brise plus bas, la présence d'une capote à la place de la bulle et une finition plus luxueuse comportant des feux de position sur les ailes, des enjoliveurs de roues à papillon, des hublots d'aération sur le capot moteur, des casquettes de phares, des commandes en plastique blanc… Mais le plus original est la sellerie imitation « peau de serpent » ! La production du roadster s'est limitée à 300 exemplaires environ, ce qui le rend aujourd'hui extrêmement rare. Le nombre de survivants connus s'élèverait à une quinzaine, ce qui en fait un objet particulièrement désirable et beaucoup plus agréable par beau temps que la version à bulle.

Notez au passage que l'appellation exacte de ces trois-roues Messerschmitt est « Kabinenroller », soit en abrégé « Karo », nom familier utilisé aujourd'hui par les aficionados.

L'exemplaire que nous proposons, après une restauration cosmétique en 1992 puis une longue immobilisation à l'abri et au chaud, a bénéficié en 2007 d'une remise en état mécanique comportant une révision moteur et le remplacement de la boîte de vitesses. Il fonctionne parfaitement et a, depuis, parcouru moins de 2 000 km. Il comporte sa capote et ses vitres latérales en Perspex. C'est un engin rare et élégant dont l'originalité déclenche joie et surprise sur son passage, et dont la conduite offre un total dépaysement.
Ce roadster est doté d'une carte grise française


After WW2, Germany began rebuilding and, like all European countries, needed economical means of transport for its citizens. In Germany, the microcar would fulfil this role to a greater extent than elsewhere, with a diversity models appearing with unfamiliar names such as Dürkopp, Trippel, Kroboth, Goggomobil or Zündapp. Then there was the Messerschmitt, the most prestigious of all microcars.

In 1945, the famous aircraft manufacturer was not allowed to resume production and had to turn to other lines of business. Engineer Fritz Fend had designed a small three-wheeled vehicle and in 1952 Messerschmitt decided to manufacture it. Together with its designer, they produced the KR175. The shape of the vehicle was quite unusual, its passenger compartment looking like an aircraft's cockpit, in which the occupants sat one behind the other, tandem style. The engine was a 175cc single-cylinder Sachs, placed ahead of the rear wheel. The proper designation of these Messerschmitt three-wheelers is Kabinenroller or Karo for short, a term used regularly by aficionados.
In 1955, Messerschmitt introduced a new KR200 version powered by a 200cc Sachs engine, which was capable of reaching 95km/h (59mph). At that time, Germany regained full sovereignty and Messerschmitt returned to making aircraft. Production of the microcar then passed to Fahrzeug und Maschinenbau Regensburg (FMR), which was managed by Fritz Fend, although the cars were still badged as Messerschmitts.

Demand for the Messerschmitt showed no signs of slackening and a new model, the KR201 Roadster, was introduced in 1957. A soft top replaced the glazed canopy and the windshield was lower than on the KR200, while the KR201 also came with additional refinements including sidelights on the wings, 'butterfly' wheel trims, vent scoops on the bonnet, headlamps rims and white plastic controls. The fake snakeskin upholstery was a particularly flamboyant feature! Only 300 examples were built, making this ultimate Messerschmitt very rare. It is believed that only 15 of this particularly desirable variant survive today.
This particular KR201 was partially restored in 1992 before being placed in long-term heated storage. In 2007 the engine was serviced and the gearbox replaced, since when the car has travelled fewer than 2,000 kilometres. Working perfectly, it comes complete with soft-top and Perspex side windows. Rare and elegant, this stylish Kabinenroller affords a very different kind of driving experience - and is much more pleasant in hot weather than the enclosed version - never failing to attract a throng of admiring spectators. The vehicle is offered with French Carte Grise de Collection.