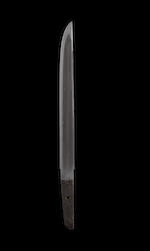 A shin-shinto tanto
By Ohara Nagatoshi, dated Keio 2 (1866)
The blade of hira-zukuri form, medium sugu-ha, koitame-hada; the ubu-nakago with one mekugi-ana, signed and dated Ohara Nagatoshi saku, Keio ni-nen ni-gatsu hi (February 1866); in shirasaya; koshirae: the saya of black lacquer inlaid with aogai; the fittings all of shakudo nanako with dragons and clouds in shakudo takabori and gilt takazogan.
The blade 27.4cm (10¾in) long. (4).
Footnotes