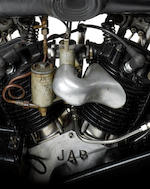 1929 Brough Superior Overhead 680
Registration no. OAJ 574
Frame no. H874
Quite what George Brough's father - Nottingham-based motorcycle manufacturer William Edward Brough - thought when his younger son cheekily added the word 'Superior' to the family name when founding his rival marque can only be imagined, but it's thanks to this act of youthful bravado that we have one of the greatest and most evocative names in motorcycling. W E Brough's machines had been innovative and well engineered, and his son's continued the family tradition but with an added ingredient - style. The very first Brough Superior of 1919 featured a saddle tank - an innovation not adopted by the rest of the British industry until 1928 - and the latter's broad-nosed, wedge-profiled outline would be a hallmark of the Nottingham-built machines from then on. Hand-built in small numbers, the Brough Superior was - inevitably - expensive, but as its maker acknowledged, he 'never intended to produce (the) design as cheaply as possible.'

J A Prestwich of London and Motosacoche of Geneva supplied v-twin engines for the MkI and MkII Brough Superiors respectively, though within a few years all models would be JAP-powered. Gearboxes were sourced from Sturmey-Archer and (initially) forks from Montgomery, while frame and accessory manufacture was contracted out to specialists in the British motorcycle industry's Midlands heartland.

With the SS80 tourer and SS100 sports model well established by the mid-1920s, it was decided to add a smaller and cheaper alternative to these two 1,000cc models to the range. JAP was already producing a 674cc sidevalve v-twin engine and this unit, redesigned to accommodate overhead valves, went into Brough's new 'Overhead 680'. First shown to the public at the Olympia Motorcycle Show in 1926, the 'Miniature SS100', as George Brough called it, entered production for 1927 and was an immediate success.

This sprung-frame 'Overhead 680' was repurchased by Brian Verrall on 25th July 2003, having previously belonged to Steve Clearman, to whom Brian sold it in 1997, and before him to Brian Rawlings, who acquired it in July 1982. Previously registered 'GU 6130' (currently on another Brough), the machine belonged to a founder member of the Brough Superior Club – Cyril Leppard – in the 1950s. By the early 1970s the 680 had acquired its current registration 'OAJ 574' (a mark issued in 1956) and was in the hands of Dave Clark, who rebuilt it incorporating a set of 'new old stock' crankcases (the stamped engine number is his date of birth!) and the fuel tank from another 680 that had been broken up. The three-speed gearbox is another non-original component, the original having been separated from the machine in the 1950s.

Documentation on file includes an invoice from Simon Miles (dated March 2004) for a re-bore, supply of new pistons and re-assembly of the engine, which incorporates the stronger through-bolted cylinder barrels. The Brough carries a tax disc dated May 1999, presumably the last occasion that it was licensed for the road, and is offered with (copy) old V5 registration documents, assorted correspondence, four expired four expired SORNs and Swansea V5C registration document.