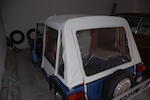 1987 Rover Mini Moke
Chassis no. to be advised
Like that other great cult car of the post-WW2 era - the Volkswagen 'Beetle' - the Mini proved itself open to all manner of imaginative interpretations by its devotees, though its boldest re-invention - the Jeep-like Moke - came from BMC itself. Conceived as a military vehicle but rejected by the Army, the Moke was redeveloped for the civilian market, deliveries commencing in 1964. The car's open design meant that, even with the optional weather protection erected, it was not the ideal vehicle for the British climate, and the vast majority ended up overseas. Production too was transferred abroad after 1968, continuing in Australia until 1981. Australian-built Mokes were already being exported to Portugal in kit form and assembled there, production proper commencing in 1983. By 1989 Rover had tired of the Moke and sold the project to Italian motorcycle manufacturer Cagiva, which initially continued production in Portugal before transferring it to Italy in the mid-1990s.

Sold as a utility vehicle in overseas markets, but in Britain viewed more as a fashion accessory, the Moke captured the 1960s' spirit of freedom and self-expression more effectively than any other car. The Moke's prominent role in Patrick McGoohan's cult - and oft repeated - TV series The Prisoner has only served to maintain its popularity and today this quirky Mini variant remains highly sought after.

This left-hand drive Moke is described by the private vendor as showing signs of rust but nevertheless in good overall condition. Sold strictly as viewed, the vehicle is offered with French Carte Grise. No reserve.




Vendue dans le monde comme véhicule d'usage courant, mais considérée comme un accessoire de mode en Grande-Bretagne, la Moke représentait l'esprit de liberté des années 1960 et l'expression d'un mode de vie. Le rôle de la Moke dans la série TV The Prisoner n'a fait que conforter son succès : cette impertinente Mini reste la variante la plus recherchée de ce célèbre modèle.

Cette voiture à conduite à gauche présente des traces de rouille tout en étant en bon état général par ailleurs. Vendue strictement en l'état, elle est accompagnée de sa carte grise française.

Sans réserve.