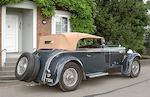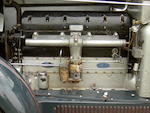 1931 Delage D8 Four-Seater Sports Tourer
Coachwork by Chapron, Paris
Chassis no. 34785
Engine no. 1474
This magnificent Delage D8 with coachwork by Henri Chapron was purchased by the current owner from Bonhams' Sale of the famous George Milligen Collection held at the Goodwood Revival meeting on 3rd September 2004 (Lot 156).

The Delage marque was always a favourite of George Milligen, who bought this lovely car, with its elegant helmet wings, from that well-known dealer in veteran and vintage cars, Cecil Bendall of Hitchin in 1962. Now finished in George's 'house colours' of RAF blue with red and gold coach lining, it remained close to his heart throughout his 42 years of ownership.

The car was completely overhauled in 1964-65, Milligen's records showing that as part of this comprehensive rebuild, which included much work on the transmission, brakes and front axle, the crankshaft and flywheel were balanced, the block was welded and sleeved, the big-end and main bearings were re-metalled and the valves were built up and re-seated. At the same time the body was repaired and repainted by local coachbuilder R Robinson & Company, the car was reupholstered to match the original trim and the plating was renewed. The Delage was driven to France in the early 1990s after a new distributor was fitted, and George Milligen started and ran it just a couple of weeks before his death in 2004.

In its day, the Delage D8 was the only French car which could be mentioned in the same breath as the 32CV Hispano-Suiza in terms of elegance and engineering excellence, while the Delage factory at Courbevoie was the most modern in the French industry, equipped with the finest tools that money could buy.

'Delage have to their credit many world's records, including a world's championship, and more awards at the principal Concours d'Elegance than any other car in the world,' the company's advertising proudly boasted, adding: 'To these achievements Delage have added a third and greater. They have made the highest known degree of luxury and performance available at the price the average motorist can pay.'

Designed by Maurice Gaultier, the D8 was the sensation of the 1929 Paris Salon, with its smooth and silent 4.0-litre, overhead-valve straight-eight engine breathing, in its normal 105bhp version, through a single Delage-built Smith-Barriquand five-jet carburettor. The chassis was a strong X-braced structure with servo-assisted braking. The impressive list of D8 owners - promoted by the factory as 'experienced and justifiably demanding folk, men of industry and of the world, businessmen and elegant women' - included King Gustav V of Sweden, King Alexander of Yugoslavia and Emperor Haile Selassie of Ethiopia as well as leading businessmen and politicians, while the most glamorous film and cabaret stars of the day like Betty Spell and Josephine Baker added sex appeal to the glorious coachwork that adorned the D8 chassis at the major concours d'elegance of the day (which a Delage usually won).

Bodywork on this car is by Chapron of Levallois-Perret, Paris, a company founded in 1919 by 33-year-old Henri Chapron, a native of Nouan-le-Fuzelier in the Sologne region of France. Unlike so many fashionable French carrossiers, Chapron carried none of the mental baggage that came from having graduated to cars from building horse-drawn carriages; consequently, his work had a freshness and innate sense of proportion that was well suited to the long-bonneted Delage D8 chassis. The wooden dashboard of this car, with its delicate metal inlay and inset instrument panel, is particularly elegant.

The current owner has sympathetically re-commissioned the car: fixing some minor faults, overhauling the carburettors, adding a radiator mascot and having the interior re-trimmed in brown crocodile skin leather. Presented in good running condition, this wonderfully stylish example of French motoring excellence is offered with UK Swansea V5 document for the registration mark 'GP 7334'.




Cette magnifique Delage D8 carrossée par Henri Chapron fut acquise par son propriétaire actuel à la vente Bonhams de la célèbre collection de George Milligen organisée à la réunion du Goodwood Revival du 3 septembre 2004 (Lot 156).

Delage fut toujours une des marques favorites de George Milligen qui acheta cette très belle voiture au négociant bien connu en voitures anciennes Cecil Bendall d'Hitchin en 1962. Peinte dans les couleurs favorites de Milligen, bleu RAF et filets rouge et or, elle est restée dans sa collection pendant 42 ans.

Cette D8 fut totalement restaurée dans les années 1964-1965. Les archives de Milligen révèlent que dans le cadre d'une reconstruction générale concernant aussi la boîte, les freins et le train avant, le vilebrequin et le volant moteur ont été équilibrés, le bloc a été ressoudé et chemisé, les portées de bielle et les paliers ont été regarnis, les soupapes rechargées et les sièges réusinés. En même temps, la carrosserie fut réparée et repeinte par le carrossier R. Robinson & Company, la sellerie refaite conformément à l'origine comme les chromes. La Delage roula en France au début des années 1990 après le montage d'un nouvel allumeur. George Milligen l'utilisait encore deux semaines seulement avant sa disparition.

Le propriétaire actuel a soigneusement remis la voiture en état en éliminant quelques causes de panne mineures, en révisant les carburateurs, en ajoutant une mascotte de radiateur et en faisant refaire la sellerie en peau de crocodile. Présentée en bon état de fonctionnement, ce très bel exemple de carrosserie française classique est accompagné de son document V5 de Swansea correspondant à son immatriculation actuelle « GP 7334 ».
Saleroom notices
The mascot that appears in the catalogue will not be offered with this lot. Please refer to department for more details. La voiture sera delivrée avec une mascotte de radiateur qui n'est pas celle figurant au catalogue. Merci de nous contacter pour plus d'informations.