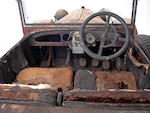 c.1920 Cottin-Desgouttes 14/16hp Type K Tourer
Chassis no. 5039
Colour: Red

Cylinders: 4; 3,216cc
Gears: 4 + reverse
Power: N/A

Previously an engineer with Berliet, Pierre Desgoutte built his first automobile, a 9.5-litre 45hp 'six', in 1904 but it was his successor 24/40hp model that set the Lyon-based manufacturer on the road to success. Launched at the Paris Salon in December 1905, the new car was built along Mercedes lines and of advanced specification. It was well received and at the beginning of 1906 Desgoutte went into partnership with wealthy industrialist Cyrille Cottin, founding Automobiles Cottin et Desgouttes with Desgoutte as technical director and Cottin in charge of sales. Four- and six-cylinder models were produced in the years leading up to WWI and Cottin-Desgouttes became admired both for its productivity and technical innovation, being among the first manufacturers to adopt monobloc engines, in-unit gearboxes and 'Hotchkiss drive' transmission. Active participation in competitions and a number of notable successes helped enhance the newly formed company's reputation still further.
After the Great War's end Cottin-Desgouttes returned to the manufacture of predominantly large luxury cars based on the pre-war Type DF. The basis of this three-model range was the Type K, powered by a 3,216cc, 14/16hp, sidevalve four, the bore of which was enlarged to create the 18/20hp and 23/25hp models. In 1922 an all-new medium size 12hp model was added to the range – the Type M. A technological tour de force, the Type M featured a four-cylinder, overhead-valve engine incorporating a five-bearing, counterbalanced crankshaft; three valves per cylinder; dual coil/magneto ignition; and four-wheel brakes, a specification that placed it head and shoulders above its rivals. Pierre Desgoutte quit the company soon after and in 1924 a 3.0-litre derivative of the Type M developed by his replacement, Paul Joseph, won its class in the Grand Prix du Tourisme de l'Automobile Club de France.
In 1925 the company launched the model for which it is best remembered – the 'Sans-Secousse' (Shock-less) – a pioneering design that featured independent suspension all round. Gaston Doumergue, President of the French Republic, congratulated the Lyonnaise manufacturer for the prestige its technological breakthrough would confer on the French automobile industry, although Cottin is reported to have observed that it had been inspired by the poor quality of France's roads. The design emphatically demonstrated its capabilities when a Sans-Secousse, one of a team of four, won the 1930 Trans-Sahara Rally, beating the likes of Bugatti, Citroën, Delage, Hotchkiss and Renault. The Sans-Secousse though, was expensive to produce, costing twice as much as the equivalent Citroën. Lacking a range of cheaper models with which to weather the Depression years of the early 1930s, Cottin-Desgouttes had gone by 1932.

This Cottin-Desgouttes four-door tourer is sign-written, 'Sapeurs Pompiers Odenas Rhône', indicating that it was used by the Fire Service in Odenas, near Lyon, possibly as the Chief Officer's car. Previously in long-term museum storage, the vehicle is offered for restoration and sold strictly as viewed. An invoice for new tyres (1988) is the only accompanying documentation.



c.1920 Cottin-Desgouttes 12 ch Type K tourisme

Châssis no. 5039
Couleur : rouge

Cylindres : 4 / 2 600 cm3
Vitesses : 4 + marche arrière

Ancien ingénieur de chez Berliet, Pierre Desgouttes a construit sa première voiture, dotée d'un moteur six cylindres 9,5 litres développant 45 ch, en 1904 mais c'est le modèle suivant, le 24/40 ch, qui a amené le succès au fabricant de Lyon. Lancée au Salon de Paris en décembre 1905, la nouvelle voiture a été construite en s'inspirant des lignes Mercedes et selon des caractéristiques avancées. Elle a été bien accueillie et au début de 1906, Desgouttes s'est lancé dans un partenariat avec le riche industriel Cyrille Cottin, fondant la société Automobiles Cottin et Desgouttes, avec Desgouttes comme directeur technique et Cottin en charge des ventes. Des modèles à quatre et six cylindres ont été construits dans les années précédant la Première Guerre Mondiale et la société Cottin-Desgouttes a obtenu la reconnaissance pour sa productivité et son innovation technique, comptant parmi les premiers constructeurs à adopter les moteurs monobloc, les boîtes de vitesses intégrées et les transmission Hotchkiss. Une participation active aux compétitions et un nombre notable de succès ont aidé à accroître la réputation de la nouvelle société.
À la fin de la Grande Guerre, la société Cottin-Desgouttes a repris sa production principalement avec de grosses voitures de luxe et en 1922, elle a ajouté à son catalogue un tout nouveau modèle de 12 ch baptisé Type M. Tour de force technologique, la Type M est équipée d'un moteur quatre cylindres arbre à came en tête avec vilebrequin à contrepoids à cinq paliers, trois soupapes par cylindre, allumage mixte bobine/magnéto et freins sur les quatre roues, une particularité qui l'a placée très en avance sur ses concurrents. Pierre Desgouttes a quitté la société peu de temps après et, en 1924, un dérivé 3 litres de la Type M développé par son remplaçant, Paul Joseph, a gagné le Grand Prix du Tourisme de l'Automobile Club de France dans sa catégorie.
En 1925, la société a lancé le modèle pour lequel elle a été la plus renommée – la « Sans-Secousse » - un concept d'avant garde qui incluait une suspension indépendante sur chaque roue. Gaston Doumergue, président de la République Française, a félicité le constructeur lyonnais pour le prestige que sa découverte technologique conférait à l'industrie automobile française, bien qu'on rapporte que Cottin a souligné qu'il avait été inspiré par la piètre qualité des routes de France. Le modèle a démontré de façon incontestable ses capacités lorsqu'une « Sans-Secousse », parmi une équipe de quatre, a gagné le rallye Trans-Sahara de 1930, battant des adversaires tels que Bugatti, Citroën, Delage, Hotchkiss et Renault. Cependant, la « Sans-Secousse » était chère à produire, coûtant le double du prix d'une Citroën équivalente. Ne possédant pas de gamme de véhicules abordables à l'approche des années de Dépression du début 1930, la société Cottin-Desgouttes a disparu en 1932.

Cette Cottin-Desgouttes quatre portes de tourisme est siglée « Sapeurs Pompiers Odenas Rhône », indiquant qu'elle a été utilisée par le service incendie d'Odenas, près de Lyon, probablement comme voiture de l'officier en chef. Stocké par la suite pendant une longue période dans un musée, le véhicule est proposé pour restauration et vendu dans son état de présentation d'origine. Une facture pour des pneus neufs (1988) est le seul document d'accompagnement.