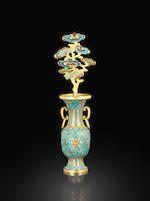 An extremely rare pair of imperial cloisonné-enamelled and champlevé enamelled 'lingzhi' vases
Qianlong four-character marks and of the period
Each finely cast of baluster form with an ovoid body and slender curved neck, all supported on a splayed foot, brilliantly enamelled with luxuriant lotus flowers amidst lotus scroll, the red, pink, yellow, white, green and blue enamels enclosed within wire cloisons and intricately set against a rich turquoise background, the neck with a broad band of upright stiff leaves below additional lotus flowers, flanked by scroll form handles suspending loose rings, the foot with a short band of stiff leaves pointing towards the foot, interspersed by additional stylised lotus flowers, the foot and neck decorated with gilt-bronze collars incised with keyfret, the wide circular mouth inset with a flattened cover applied with a brilliantly cast design of lotus flowers interlinked by lotus scroll, encircling the trunk of a wondrous lingzhi sprig teeming with eight fungi of differing size, decorated in champlevé enamels of blue, green, red and pink of differing tones, the gnarled trunk itself very finely cast with naturalistic detail of the grain, the base incised with four-character mark.
46cm (18 1/4in.) high. (2).
Footnotes