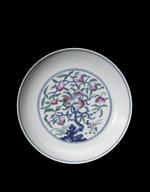 An important pair of famille rose peach dishes
Yongzheng six-character marks and of the period
Each with shallow rounded sides, the interior well decorated in underglaze blue with a tree bearing nine large peaches growing from behind a garden rock with sprigs of lingzhi growing close by, the peaches and lingzhi highlighted with shaded red enamel, the leaves and grasses finished in two shades of green enamel, all enclosed within a double circle, with double line border round the rim, the exterior decorated with eight cranes in various poses in underglaze blue with red enamelled crests, the six-character mark enclosed within double circles and centered on the glazed base, fitted boxes.
18.6cm (7¼in) diam. ((4).).
Footnotes