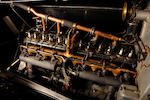 Ex John Scheve, Matt and Barbara Browning and Tom Lester
1923 Rolls-Royce 40/50hp Silver Ghost Pall Mall Dual Cowl Phaeton
Chassis no. 77JH
Engine no. 22-152
Soon after it started Rolls-Royce adopted a single model policy, concentrating all its efforts, engineering and development on the 40/50hp six-cylinder series known by the name of its earliest successful example, the Silver Ghost. But while Rolls-Royce stayed with a single model designation the Silver Ghost was anything but static in engineering, design or features.

The Silver Ghost was rugged, powerful, strong and quiet. It would cruise all day, swallowing up long distances in comfort and silence. At the same time its quiet and relaxed low speed operation was ideally suited to restrained and elegant duty under limousine and town car coachwork. The Silver Ghost proved to be so suitable that, in addition to the Rolls-Royce factory in Derby, Rolls-Royce set up production facilities in the United States in 1920, choosing Springfield, Massachusetts for its access to suppliers and for the ample supply of skilled craftsmen trained in the armories and machine tool factories of the Connecticut River valley and New England.

The first Springfield Silver Ghosts were assembled from kits of parts brought from England but the Springfield works steadily added American vendors for accessories and electrical systems and expanded its manufacturing capabilities. After a few years even managers from Derby were rating the Springfield built Rolls-Royce automobiles the equal of Derby-built cars. Some of them even rated the Springfield product to be better.

Updated features and mechanical refinements were first applied to Derby-built Rolls-Royces, then added to the Springfield-built cars so the American product was late to get such improvements as four-wheel brakes. On the other hand, many of the American components were better than those available in the U.K. and the Springfield-built Rolls-Royces soon featured American-made Bosch magnetos and coil ignition, Bijur generators and starters and American-made wire wheels.

Several external attributes of the Springfield cars were unique, particularly the tubular bumpers and drum-style headlights. All were bodied with American-built coachwork, sometimes by Brewster but mostly, at least during the Silver Ghost era, provided by a number of coachbuilders which worked to open orders for cataloged bodies from Rolls-Royce and which were then identified only as made by Rolls-Royce Custom Coachworks. The American coachwork was frequently distinguishable from its British counterparts, being visually lighter, less formal and more suited to being used by owner-operators.

The Paine Collection's 1923 Springfield Rolls-Royce 40/50hp Silver Ghost was originally delivered to Penn Motors in June 1924 with Pickwick 4-door sedan coachwork and was used as their demonstrator. Robert M. Stein in Baltimore was the first private owner, acquiring it in September 1926. In the 1978 Rolls-Royce Owners' Club Register it was in the five-Rolls/Bentley collection of John E. Scheve in Fairfield, Ohio and had the open Pall Mall coachwork which it still has today. In 1982 it was acquired by Tom Lester, whose collection needs no elaboration. Richard C. Paine, Jr. acquired it January 4, 1985 from Matt and Barbara Browning in a package transaction.

It is every bit the spectacular, elegant, refined automobile which characterizes the Springfield-built Rolls-Royce. Righthand drive, as all the Springfield Rolls-Royces were until 1925, it is finished in black with grey leather interior and a beige cloth top and top boot. Its equipment and body features include a rear cowl with windshield, windwings on both windshields, dual sidemounted spare tires with rear view mirrors, wide whitewall tires, centerlock wire wheels in body color, Bausch & Lomb drum headlights, tube bumpers and an opening front windshield.

It is distinguished by two unusual visible features, its gorgeous drum-enclosed spotlight mounted on a pedestal on the right running board and the rack for the luggage trunk which has a folding bumper to protect it when it is in use.

There could hardly be an automobile more appropriate to the enthusiastic touring histories of Tom Lester and Matt and Barbara Browning. This is a beautifully restored, finished, equipped and presented example of the Springfield Rolls-Royce. Elegant and imposing, the quality of its restoration shows in its condition and presentation, as well as the lines and equipment of its Pall Mall coachwork fitted with rear cowl and windshield.

It has an honorable history with some of America's greatest collectors: John Scheve, Tom Lester the Brownings and Richard C. Paine, Jr. It will give its new owner as much satisfaction and enjoyment as it did those legendary collectors and still has many, many years of enjoyable driving, touring and shows before it. It will cruise at highway speeds, exult in crisp fall skies, is open to the smell of freshly cut grass with the top down while driving through a neighborhood and will never, ever disappoint a spectator or onlooker.