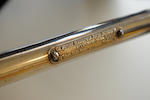 1913 Pierce-Arrow 48-B 7-Passenger Touring
Chassis no. 10435
Engine no. 10435
Pierce-Arrow had cemented its reputation for performance and reliability when the Pierce Great Arrow won all five of the famed Glidden Tours in 1905-1909 while achieving perfect scores in all but one of them. Both to retain its high standards and to facilitate its continuing innovation and refinement Pierce-Arrow closely controlled all aspects of construction including coachwork for which most other luxury marques relied upon outside coachbuilders. Instead, Pierce-Arrow worked with its Buffalo, New York neighbor Aluminum Company of America to perfect casting techniques which produced cast aluminum body panels as thin as 1/8". The resulting Pierce-Arrow bodies were exceptionally strong and lightweight.

Body design also was handled within Pierce-Arrow's Art Department. Created long before GM recruited Harley Earl to create GM's Art and Colour Department, Pierce-Arrow had Herbert Dawley designing bodies for Pierce-Arrow automobiles and working with Pierce's demanding clientele to select accessories, colors and materials.

Pierce-Arrow actively sought the business of prominent figures including the White House where every President from William Howard Taft through Franklin Delano Roosevelt rode in the Buffalo company's automobiles. Pierce-Arrows were favored by movie stars like Mary Pickford, Gloria Swanson and Tom Mix. The publicity and recognition of product placement like this was supported by an imaginative advertising campaign.

Pierce-Arrow's success enabled the company in 1906 to construct a massive integrated factory in Buffalo that covered 1.5 million square feet on the site of the 1901 Pan-American Exposition. Unit production from Pierce-Arrow was never high (it took until 1912 before Pierce-Arrow built its 12,000th car) but in quality and materials there was none better and Pierce-Arrows were enthusiastically snapped up by the elite at prices that made Packards and Peerlesses inexpensive by comparison.

In 1913 Dawley patented the feature that would come to be Pierce-Arrow's trademark, the headlights faired into the tops of the front fenders. Most subsequent Pierce-Arrows came with the fender-mounted headlights (although to cater to its conservative clientele Pierce-Arrow also offered conventional headlights) which not only were instantly distinctive but also gave better illumination.

The 1913 Pierce-Arrow Model 48B was powered by a 515 cubic inch inline T-head six-cylinder engine with 48.6 calculated ALAM horsepower. Pierce-Arrow's production of the Model 48B was a remarkable 825 units, considering its cost of $4,850-$6,300 depending upon coachwork. The distribution of Pierce-Arrow's client base was apparent from the 1913 production figures where the Model 48 (in its two versions, B and D, the latter equipped with a Disco acetylene self-starting system) exceeded the less expensive Model 38C by 209 units, nearly 30%.

One of the highlights of the Paine Collection is its magnificent 48hp 1913 Pierce-Arrow 48-B 7-passenger Touring Car. It was acquired from Dr. Samuel Scher in 1967 along with 41 other magnificent automobiles from Dr. Scher's pioneering collection and has been one of the most important and attractive automobiles in the Seal Cove Museum. It was restored in 1963 for Dr. Scher and was a 1964 AACA National First Prize winner, an honor which its condition today endorses.

Finished in green with a body accent in dark green picked out with white coachlining, it is attractively upholstered in brown and fitted with a beige cloth top. Whitewall tires are mounted on body colored wood spoke wheels with the full green/dark green/white coachline treatment and it has double spare tires and rims mounted on the righthand running board adjacent to the driver. The brightwork is stunning nickel. The rear compartment is fitted with occasional seats to bring its passenger capacity to seven, all of whom face forward to look through the tall folding windshield with an opening vent panel along the lower edge of the frame.

It is equipped with electric lights in octagonal rimmed nickel plated shells mounted on the frame extensions rather than Herbert Dawley's revolutionary patented headlight treatment blended into the front fenders. Another unusual feature is the nickel-plated "Harroun" tubular front bumper. (Mr. Harroun's impact, however, is limited to the bumper; there are no rear view mirrors.)

The rear wheels have double-acting brakes with internally-expanding shoes as well as contracting bands around the outside of the drums. Coachwork is constructed of Pierce-Arrow's thin cast aluminum panels that combined light weight, rigidity and durability.

The restoration, now over forty years old, has been carefully and sympathetically maintained in Richard C. Paine, Jr.'s Seal Cove Museum. The nickel plating is generally good, the chassis is remarkably clean and tidy, showing only a little use and some lubricant residue that will be easily tidied up. The upholstery and interior trim are stiff but show little use or wear and the top is sound but has some stains. Underhood the presentation is orderly and workmanlike and the dual ignition, T-head six-cylinder engine looks as imposing as its power and reputation.

Dr. Scher's restoration was clearly to "like new" standards and today this magnificent 1913 Pierce-Arrow looks about like it would have after a season or two of use, a reminder of the fact that these automobiles were, while being luxurious and imposing, primarily practical, utilitarian means for carrying family and friends around town and on longer trips. The substantial Pierce-Arrow coachwork, huge 37" spoked wheels, ample seating and tall top are a statement of elegance, luxury and exclusivity that no one could overlook in 1913 or in 2008.

Pierce-Arrow was at the pinnacle of automobile design, manufacturing, materials and craftsmanship in 1913 and this Model 48-B Seven Passenger Touring car is ample evidence of why.
Saleroom notices
This car was recently serviced and made running by a marque specialist Howard A Lane Restoration from Hardwick, MA