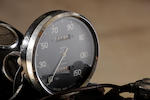 1952 Vincent 998cc Black Shadow
Frame no. RC10296B/C
Engine no. F10AB/1B/8396
'Well into the 1960s and even today, when it is wrapped in a mystique carefully cultivated by thousands of fanatically enthusiastic owners, the big Vincent retained that commanding air about it when you met one on the road, and many a rider of avowedly super-sporting machinery would be humiliated by having some much older Black Shadow come past at the canter…' - L J K Setright.
Arguably Britain's foremost motoring journalist of his generation, the late Leonard Setright, himself a keen motorcyclist, was writing in the 1970s but what he said about the Vincent v-twin, and the Black Shadow in particular, remains every bit as true today.

Ever since the Series A's arrival in 1937, the Vincent v-twin has been synonymous with design innovation, engineering excellence and superlative high performance. From Rollie Free's capture of the 'world's fastest production motorcycle' record in 1948 on a tuned Series-B Black Shadow to the final fully enclosed Black Knight and Black Prince, Philip Vincent's stress on appearance and performance is legendary. His machines bristled with innovative features, offering adjustment of brake pedal, footrests, seat height and gear-change lever. The finish was to a very high standard commensurate with the cost of the machine, which was virtually double that of any of its contemporaries.

But above all else it was the v-twin's stupendous performance that captivated motorcyclists, whether they could afford one or not. The appeal of the Vincent, and the Black Shadow in particular, lay in its ability to out-perform just about every other vehicle on the road, and in the early post-war years there was nothing to compare with it. This was a time when the average family sedan was barely capable of reaching 70mph, and not until the advent of Jaguar's XK120 was there a production sports car that could live with the thundering v-twins from Stevenage. With a top speed approaching 120mph, and bettering it in the Black Shadow's case, the Vincent v-twin was quite simply the fastest road vehicle of its day.

The Black Shadow was indeed a legend in its own lifetime, and in the half-century since production ceased, the esteem in which this iconic motorcycle is held has only increased, fuelling the demand among discerning collectors of the marque. A matching-numbers example, this Series-C 'Shadow was one of two delivered new to Vincent agents ISC in Springfield in January 1952. The Smiths Chronometric '150mph' speedometer records a total mileage of 5,186 and the machine appears complete and original – a most exciting restoration project that would amply reward the fortunate new owner.