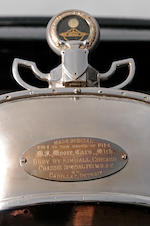 Custom Built Four-door Saloon
1915 Cadillac Model 51 V8
Coachwork by C.P. Kimball & Co.
Chassis no. 145WB8C
Engine no. A-10077
The place of the V8 Cadillac in automotive history is assured. The Model 51 Cadillac was introduced in September 1914 for the 1915 season, and while there had been other V8 engines before, most had been ephemeral prototypes and only the French De Dion-Bouton company had actually marketed a production V8, starting in 1909.

In America, the Cadillac company had established a fine reputation for the introduction of the first practical electric starting, lighting and ignition system and for its precision of production ensuring absolute interchangeability of parts, two achievements that had earned it the unique distinction winning two of the British Royal Automobile Club's Dewar Trophies for technical innovation. Consequently, the company adopted the proud motto "Standard of the World".

But by 1912 the four-cylinder engine that had served it so well was looking a little outmoded and Cadillac's Wilfred Leland had been considering the choice of power plant for the company's next new model. Inspired by the De Dion V8 automobile and early V8 aeroengines, he decided to develop a V8 built to his firm's exacting standards.

Preliminary development of a new V8 engine to outclass all Cadillac's six-cylinder rivals had started in 1912, when Cadillac bought a De Dion V8 for study purposes and installed a V8 Hall-Scott aeroengine in a car chassis, then built an experimental V8 engine incorporating the best features of both designs. Work to produce a production V8 really got under way in 1914 when the British engineer D. McCall White, formerly with Daimler and Napier, was placed in charge of the project.
Strictest secrecy was observed as a handpicked development team worked to develop a smooth-running V8 with excellent low-speed torque. It proved to be such an outstanding engine that the V8 layout became the hallmark of Cadillac for decades to come.

This remarkable Cadillac represents the first generation of two great American automotive traditions – the V8 engine and the customized car. It was commissioned in 1915 on one of the earliest Cadillac V8 chassis by a remarkable self-made man from Caro, Michigan named W.J. Moore, a cousin of the celebrated American inventor Elisha Gray, who invented and patented many electrical devices and founded the company that became Western Electric. Most famously, in 1876 he had filed a claim for the invention of the telephone just a few hours after Alexander Graham Bell had registered his final patent on the subject and prevented the issue of the patent pending a legal hearing. But though Gray had been unlucky in his challenge to Bell's claim to the invention of the 'phone, Moore realized the business opportunity the new device offered, and – inspired by conversations with his cousin – at the age of 21 he set up the Moore Telephone Manufacturing Company and the Moore Telephone System, and in 1892 offered the first telephone service in south-east Michigan.

The public responded eagerly, and within a few years Moore had set up a thriving telephone network across his local area in Michigan's "Thumb" peninsula. Success and his interest in new inventions meant that in 1899 Moore became one of the very first motorists in Michigan, ordering a 4.5-hp De Dion-Bouton voiturette from Paris. It is said that when he drove his new car into Detroit, it was examined with great interest by Henry Ford, then working on one of his early prototypes.

Naturally, when the new Cadillac V8 came on the market, Moore was one of the first to place an order, on 9 March 1915. Though Cadillac normally sold their cars complete with bodywork on the standard 122 inch wheelbase chassis, a specially designed long wheelbase (145 inch) chassis was available at $1850, on which Moore planned to commission a very special Cadillac indeed, which he had sketched out in an early J. Rothschild & Fils catalog!

His chassis arrived at the Bay City Auto Company in Bay City, MI, just two days after he had placed his order, even though he had specified several non-standard features including oversize cylinders, low final drive ratio, 37x5 tires (standard was 36x4.5) and Universal demountable rims. The car is also equipped with air springs for a more comfortable ride.

However, Moore did not commission Rothschild to build his dream car, but the old-established C.P. Kimball coachworks in Chicago, a firm founded in 1877 as buggy builders, who constructed a unique limousine body to W.J. Moore's exacting specification. An inventor since his teenage years, Moore equipped his car for the bleak Michigan winters, fitting it with a unique heating system concealed in a specially-extended hood cover that funneled warm air from the radiator into the body of the car; the system, it seems, was supplemented by a stove that could also be used for cooking when the car was stationary! Electric fans above the rear seats ensured the circulation of the air within the car; a contemporary photograph of Mr Moore in the car reveals that the car was also equipped with a candlestick telephone, which he seems to have hitched to the overhead telephone wires using a 16 ft telescopic pole when his car was stationary.

Moore's inventive streak even extended to his home, known as "the house of 21 telephones" (there were even 'phones in the three bathrooms!), which was equipped with "a sort of a miniature airplane arrangement which will swing him from a balcony near his bedroom into a large swimming pool by the side of his house for a morning plunge".

Moore kept his unique Cadillac and De Dion-Bouton all his life, and the Cadillac won a silver trophy at the 1950 Wisconsin Centennial in Milwaukee. Sadly, his widow disposed of both cars at his death, and the Cadillac ended up as a display car at a Chevrolet-Oldsmobile dealership with a modern Cadillac engine installed, as the original power unit had suffered major damage. In 1975 the car was imported into England by the pioneering old car dealership Antique Automobiles Ltd, who completely restored the original V8 engine for the new owner, a major European collector, and re-installed it in the car.

In its present ownership for over 30 years, this one-of-a-kind Cadillac must be the most distinctive early American V8 automobile in existence, its exceptional provenance making it a sure-fire showstopper at any brass era event.