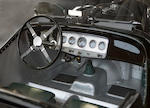 The "Louis Special" Competing in Every Running of the Pebble Beach Road Races
1933 Ford-Auburn Roadster Special
Chassis no. DRF56948
On the cover of the book American Sports Car Racing in the 1950s Masten Gregory rests a proprietary hand on the fender of Tony Parravano's Ferrari 375 Plus while talking with Carroll Shelby at the Palm Springs races in December 1955. Intently adjusting something on the other side of the Ferrari's big V-12 is Parravano's mechanic, David Addison.

What's not apparent here is that David R. Addison was an accomplished road racer long before Parravano, Gregory or Shelby even began racing. His road to maintaining the Ferraris and Maseratis of Parravano was driven in this Ford-Auburn special which he built in his one car garage in Santa Monica. In a day when most young Southern Californians were building hot rods for the dry lakes, Bonneville, oval tracks and Indy, Addison was very different, having an image of a Jaguar SS100 in his mind and creating a near-duplicate from home-grown American parts.

He then went on to drive it to the Monterey peninsula in 1950 where a group of enthusiasts were bent on holding a race within the exclusive confines of the Del Monte Forest near the Lodge at Pebble Beach. They came from all over the West Coast, not least another mechanic who had recently returned from his apprenticeship at the Jaguar factory in England with one of the new and exciting Jaguar XK 120 roadsters, Phil Hill. The Ford-Auburn raced throughout the West Coast for years. It is believed to be the only surviving veteran of all seven of the Pebble Beach Road Races from 1950 through the meeting's demise after the 1956 race.

Entered by Addison as a Ford-Auburn and by later owner Dr. Robert L. Louis as the "Louis Special," it never could shake the name it got from its builder's nickname, "Beezy" Addison, the "Beezymobile." Dr. Louis raced it enthusiastically in many of the race meetings in California at places like Paramount Ranch, Torrey Pines and Golden Gate Park.

Addison's Ford Special began life as a 1933 Ford and still has its frame and front axle as well as the rear deck, part of the rear quarters and the internal firewall. The rear axle is from a '40 Ford. The front brakes are big, from a 1941-48 Lincoln. Power comes from a 221 cubic inch 1937 Ford 21-stud flathead V-8 running aluminum Ford heads from Canada. Two Stromberg 97 carbs are mounted on a very rare Frieman intake manifold highlighted by its two brass balance tubes. A hot Isky 400 Jr. cam works the valves with aggressive timing that give the easy-starting flathead a fierce lope at idle and leaving onlookers without the slightest doubt that this is one hot motor. Drive is taken through a '39 Ford gearbox with stock gears to a fairly aggressive rear gear of probably 3.7:1 ratio.

It is in the bodywork and choice of the underlying pieces where Addison's workmanship and design sense is particularly apparent. The long hood, short body proportions belies the short V-8 under the hood. Addison cut down the vee radiator shell from a Cord Front Drive L-29 and molded it smoothly into the hood. The sweeping fenders, running boards, dashboard and centerlock wire wheels (adapted to Ford hubs) are the Auburn part of the Special. The instruments are correct period Auburn replacement items with curved glass.

Everything is done to standards of craftsmanship rarely seen on road racing specials and more appropriate to the show cars being assembled by California customizers. Even the body joints on the cowl were filled and smoothed until they were invisible. Addison built his own custom radiator to fit within the L-29 shell, welding his initials on it to identify his work. The carb air intake stacks and exhaust pipe tips both are crafted with folded lips. Rather than leaving even this unusual feature alone, Addison delicately shaped a point on one side of each lip.

Addison raced the Ford-Auburn at Pebble Beach in 1950-52, then sold it to Dr. Louis who continued to race it from 1953 through 1956. Its history then becomes obscure although it pops up from time to time, its dramatic appearance too much for photographers to ignore. It is pictured in Movieland Motor Review in June 1969 apparently at a gathering on the Universal Studios back lot. Other photos show it in Elkhart, Indiana in 1989. Period shots of it are featured in several places in Art Evans' book Pebble Beach Remembered.

It was discovered stored in a shipping container in Anaheim in 2004 in essentially the same condition – complete and largely intact – in which it is shown in the 1989 photos and acquired by the present owners. How it ended up back in California is unknown; the prior owner had owned it only since 1999. The engine was a later 24-stud flathead (which goes with the car). Its design, details, workmanship and early California racing history appealed to the current owners and they immediately began a thorough restoration which saw them invited to bring it to the 2006 Pebble Beach Concours d'Elegance during the Concours' salute to "Cars that raced in the Forest" and where it earned a class award.

Including a shakedown and driving to and from the lawn at Pebble Beach it has covered only 8 miles since the restoration was done. The engine starts "on the button" and has a ripping exhaust note that leaves not doubt about its performance. The 24-stud engine that was in it when it was acquired was replaced by a correct type 221 cubic inch 21-stud engine as indicated in the Pebble Beach races entries. The workmanship throughout is meticulously accurate, clean and sharp. The cosmetics are brilliant. Finished in ebony black with the original handmade bucket seats upholstered in aqua leather with taupe piping, it has chrome wire wheels, blackwall tires, Marchal lights and a rear mounted spare on an ingenious tilting mount for access to the trunk. The riveted aluminum fuel tank is new for safety reasons but accurately re-creates the original's construction details.

Some of the original interior panels, particularly the floors, had to be replaced after being used by unsanitary woods creatures but otherwise the structure, body and components are original. The steering wheel with its four banjo-style wire spokes was carefully rebuilt by specialists. A pair of correct Brooklands aeroscreens provide minimal protection for the occupants. The electrical system was rebuilt with its original 6 volts. The ignition system is stock Ford. The unusual dual brake/clutch cylinders was traced down and found to be not some later addition but a 1940 GMC truck piece. David Addison built the Ford-Auburn with only one door, on the passenger's side, and that is how it remains today.

In addition to the 24-stud flathead engine that was in it when it came out of the shipping container a complete new 3.55:1 rear gear setup is included along with a file of restoration and historic photos.

This is a brilliantly restored and meticulously maintained and presented California special ready to be used, enjoyed, shown and toured in the many events for which it is eligible. Its extensive racing history in the early 50's is its key to invitations to many of the most prestigious and enjoyable events and its availability is a rare opportunity to combine so many elements of American and California automobile history and culture when an earnest craftsman laboring in the confines of a small California garage and working with parts from a variety of sources could construct a competitive car and race with legends.