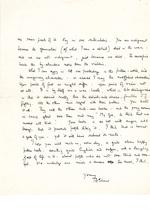 LAWRENCE, THOMAS EDWARD. 1888-1935.
"I JUST DROOL ON & ON, WANTING TO DO SOMETHING INTANGIBLE, AND GOOD ONLY AT TANGIBLE THINGS, LIKE FLOOR-POLISHING, OR PAINTING, OR FILING BITS OF METAL."
Autograph Letter Signed ("TE Shaw"), 2 pp recto and verso, 4to, R.A.F. Mount Batten, Plymouth, May 3, 1930, to H.M. Tomlinson, demurring at the invitation to write a preface, reflecting on the nature of writers, and discussing Tomlinson's book, All Our Yesterdays, mild creasing, else excellent.

Wonderful letter from Lawrence to his fellow author. In part: "An introduction by me would only do harm. Twice I have 'introduced' books and lived to regret it. It holds the smoky glass of oneself between the writer & his readers. Really it is ignoble and should be resisted. All the same it is hard to resist … To harden my heart against the temptation to repeat this sin, I set a bough above my head a determination (blessed fifty-five times and thrice regretted) not to write & sign—ever—anything again. You are a writer, born and inevitable. I am not. Writers are not like the rest of people: they feel, & put on paper, and have a certainty of goodness about them. Alas: they are to be envied. I just drool on & on, wanting to do something intangible, and good only at tangible things, like floor-polishing, or painting, or filing bits of metal. / I re-read 'All Our Yesterdays' about a month ago, with the knowledge of your letter behind me, and saw at once that what made me miss parts of it lay in our situations. You are indignant because the generation (of which I was a detail) died in the war: and we are not indignant, just because we died. The sacrifice hurts the by-standers more than the victims … It is by itself as a war-book, which is to be distinguished: in that it doesn't really love the details and dress-furniture of fighting. All the others mix regret into their pictures. You hate it all. They call the others anti-war books: and the young airmen in camp gloat over them and say 'My god, to think that we missed all that.' Your book is so hot with anger all through that it prevents people liking it. I think that is honest & good of you: yet it will have reduced its sale. / I hope you will make us, some day, a quite clean happy picture book: something quite English and vulgar, with a laughing zest of life in it: about people who do not over-think and over-feel…."
See illustration.