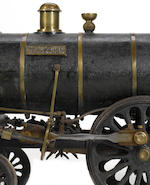 An important contemporary early 19th century 6in gauge model of the 4-2-0 locomotive 'Hercules'
Probably built in England as a salesmans model to the design of William Norris, Philadelphia circa 1840.
The center flue boiler has a round 'Bury' pattern domed firebox with grate and fittings including water gauge with shutoff cocks, level test cocks, drain cock spring balance safety valve, regulator with quadrant guide engraved '1-2-3-4-5-6', whistle and dummy sand box, one fitting with original mother–of–pearl handle and another of horn. The chassis is comprised of wooden bar–type frames and wooden buffer beam and is fitted with twin outside inclined cylinders with inside opposed gab valve gear, centrally mounted valve chests with separate steam ways, rocking shaft levers and reversing lever, cylinder head lubricators, diamond cross section crosshead guides, barreled connecting rods with gibbed and cottered big and little ends with split brasses, working leaf springs, footplate with guardrails and many other details. Traces of original paintwork are visible in places. (There is some old damage and part of the smoke box door is probably not original), 18 1/2 x 25ins (47 x 63.5cm). With contemporary carrying cradle engraved 'LINGHAM', and glass case.
Footnotes