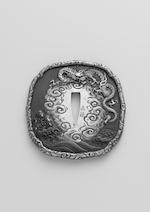 A fine tachi koshirae
19th century
The saya of lacquered wood, partly roiro with formalised waves in gold hirazogan and partly of mottled green lacquer, overlaid with a large silver dragon kojiri and bands of silver clouds; the tsuka of wood with a dragon amid clouds in relief, its eyes gilt, tsuba of iron with silver cloud mimi and seppa-dai with a dragon in gold takazogan, signed Naochika, fuchi-kashira of silver clouds, signed Naochika.
Total length, 99.5cm (39¼in). ((2).).
Footnotes