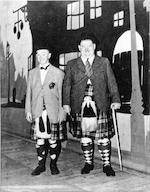 Two costumes previously personally owned and worn by Stan Laurel and Oliver Hardy,
the Scottish related outfits comprising:
two kilts, one having been worn by Oliver Hardy on stage at the Glasgow Empire in 1947, the other kilt having been worn by Stan Laurel in the film "Bonnie Scotland", 1935 (this kilt was a gift to him from music hall legend Harry Lauder), together with two sporrans from the Laurel & Hardy film Bonnie Scotland, one which Laurel wore in the film and which Hardy then later wore on stage at the Glasgow Empire in 1947, a pair of Oliver Hardy's tartan stockings (not as illustrated in the 1947 photograph), a pair of Stan Laurel's tartan stockings and a pair of Laurel's patent leather buckled shoes.
Footnotes
Saleroom notices
Please note: These items were given by Stan Laurels sisters to her best friend, who owned them until 1987, when they were acquired by the current vendor. Please note: The sporrans have been transposed on the main illustration of this lot.