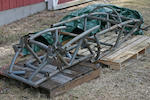 The Ex-Dickie Stoop
1958 '2-liter' COOPER-CLIMAX TYPE 45 FORMULA 1 RACING SINGLE-SEATER
Chassis no. F2-11-58
This is an 'interim' Formula 1 Cooper-Climax of the kind which launched the years of the 'rear-engined' revolution in Formula 1 Grand Prix racing car design. The first water-cooled rear-engined Coopers were the center-seated 'Bobtail' sports-racing design of 1955. But by the end of that year it was already known that the world governing body of international motor racing, the FIA, intended to launch a new 'stepping-stone' class of single-seater road racing in 1957. At that time the World Championship-qualifying Grand Prix class – or Formula 1 – catered for engines up to 2½-liters unsupercharged. This would continue until the end of 1960, but meanwhile the new Formula 2 class for 1957 was to use a ceiling engine capacity limit of only 1½-liters. This new category appealed to many racing car manufacturers, with the Cooper Car Company of Surbiton, England, at their head. And such was the interest amongst race promoters that through 1956 a number of 'dress rehearsal' road races were organised in England as a curtain-raiser before the official introduction of the new class.

Cooper immediately asserted its primacy by developing a center-seat, slipper-bodied open-wheeled racing version of the 'Bobtail' sports car using the same 4-cylinder Coventry Climax overhead cam water-cooled engine proven in the sports model through 1955. The new prototype Cooper Type 41 Formula 2 cars immediately showed astonishing pace driven by the works stars Roy Salvadori and Jack Brabham, while customer models were also driven by stars of their day, Tony Brooks and Ken Wharton. In 1957 a further improved Cooper-Climax Type 43 model was introduced for the official introduction of international Formula 2, and the cars dominated the field. By 1958 it seemed that if you did not have a Cooper-Climax with that very lightweight aluminum-block engine behind the driver's shoulders, you wouldn't have a chance of consistent Formula 2 success. The cars won the opening F2 Championship and into 1958 a further refined version of the theme emerged as the Type 45 model – like this fine example offered here.

Cooper-Climax Type 45 chassis serial 'F2-11-58' originated at the small Surbiton factory a few miles south-west of central London early in 1958. It was sold to a fascinating character who was both well-known and immensely popular within British motor racing. He was Flt. Lt. Richard 'Dickie' Stoop – a Royal Air Force fighter pilot whose father was Sir Adrian Stoop – a well-known pre-war England rugby player and a great friend of the legless Battle of Britain fighter ace Douglas Bader. After losing his legs in a flying accident in 1931, Bader had spent much of his time convalescing with the Stoop family at their home, The Grange, in Hartley Wintney, Hampshire, England.

Dickie Stoop had been shot down during the war off the Mediterranean island of Malta, and he had baled-out into the sea, thereby qualifying for immediate membership of the 'Caterpillar Club', as were all aircrewmen saved by their silken parachutes. Postwar, he joined the Empire Test Pilot's School at the Royal Aircraft Establishment, Farnborough, just a few miles from Hartley Wintney, and one of his great sparetime interests was in high-performance and competition motoring. He was a tremendous fan and supporter of the Frazer Nash sports car marque, racing one in partnership with fellow test pilot Lt. Cdr. Peter Wilson, who in turn later became Chief Engineer of the British Rootes Group manufacturing Sunbeam, Singer, Hillman and Humber family cars. Dickie Stoop went on to race his Frazer Nashes at all levels up to and including the Le Mans 24-Hour endurance classic, in which he competed no fewer than ten times, and in 1958 he bought his new Formula 2 Cooper-Climax as a foray into the single-seater world. This car's chassis serial has been quoted as both 'F2-11-58' and 'F2-19-57' but it appears he started with an early Type 43 car, and then replaced it with the Type 45. The differences are that the Type 43 featured transverse leafspring suspension both front and rear, while the updated 1958 'Mark II' Type 45 had coil-and-wishbone front suspension, in place of the transverse leafspring. This was a great improvement.

Dickie Stoop's own Formula 2 career saw him drive first in the Lavant Cup Formula 2 race at Goodwood on Easter Monday 1958, finishing a delayed 9th, and on May 10 he reappeared in the Silverstone F2 event, finishing 3rd behind none other than the young Bruce McLaren and future Formula 1 team patron, Tim (son of Reg) Parnell. At Brands Hatch on June 8 Stoop finished 11th and at Snetterton on July 27 he was fifth in a race won by Ian Burgess from Bruce McLaren, both in sister Coopers.

Into 1959 Dickie Stoop only briefly continued his Cooper-Climax F2 campaign, reappearing at Easter Monday Goodwood (unplaced) and retiring from the British Empire Trophy race at Oulton Park in the English northwest. The wealthy former test pilot went on to race Porsches, owning two 356 Carreras, road-registered 'YOU 4' and '5 HOT'. In the former he won the 1960 Autosport 3-Hours at Snetterton, won his class in 1961, and then won the 2-liter division of the British Championship in 1962 and '63. He was classified 10th in the 1963 Spa 500Kms in Belgium and also drove a Porsche RS60 Spyder before, in 1964 becoming the first British customer for a Porsche 904GTS. In 1965 he then entered his latest acquisition - an ex-works Formula 1 Lotus-Climax 33 V8 - for the rugged Australian star, Paul Hawkins. 'Hawkeye' famously dropped Stoop's car into Monte Carlo harbour when he crashed at the quayside chicane during that year's Monaco Grand Prix!

Tragically, Dickie Stoop succumbed to a heart attack while racing his Porsche 911 at Croft, Yorkshire, in May, 1968. He was only 47 years old, and this great British racing character was widely mourned.

This very well prepared and ready to run Cooper-Climax was acquired by the present vendor in England in 1987 and it was campaigned by him in predominantly east coast American Vintage events (a list of which is available upon request) from then until 1994. The car was purchased ex-Peter Bloore – another well-known British based motor racing personality - from Essex Racing Services (run by well-known British specialist Peter Denty) on 22nd April, 1987, and an invoice copy in the documentation accompanying this Lot confirms this purchase, and the chassis serial applied – 'F2-11-58'.

A new chassis to original style was supplied by British Cooper specialist Sid Hoole in May 1989, and the car was reassembled around this frame while the original was retained and accompanies this Lot. The present vendor had specified a 2.2-liter Coventry-Climax engine to power the car upon his original purchase but when this power unit proved unreliable it was replaced by the original seller with what has since proved to be a "bullet-proof" 2-liter Climax FPF unit which is the engine powering the car as offered here today. This unit has been meticulously prepared and rebuilt by the vendor's personal mechanic with the desirable 'four-bolt' bottom end. The vendor had previously campaigned an all-leafspring 1957 Cooper and he recalls the step up into this wishbone front end 1958 model as 'a quantum leap'.

These delightful rear-engined Cooper-Climax cars were recognised in period as being 'more fun than should be legal'. They were – and are – immensely forgiving and 'chuckable' single-seater racing cars and they are also renowned for being strong and – by the standards of contemporary racing cars – very protective and safe. The vendor in fact characterizes this mouth-watering little car as being "…very forgiving, and fun, and very quick!". What more could one desire from a Vintage racing car, and in this case one associated with a great British motor racing character, and one that itself formed part of a pure bloodline presaging the rear-engined Coopers that became Champions of the Formula 1 World for two consecutive years – 1959, and 1960.