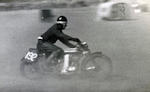 1928 AJS 495cc K10
Registration no. YX 6612
Frame no. 89966
Engine no. 89966
Originally manufacturers of proprietary engines, the Stevens brothers introduced the first AJS motorcycle in 1911. Those first AJS machines were sidevalve-engined lightweights offered with belt-drive transmission or optional all-chain drive with two-speed countershaft gearbox. This latter feature enabled them to put up a good showing in the Isle of Man TT's new Junior Class, an event AJS would later dominate. Eric Williams scored the marque's maiden Junior TT victory in 1914, and the first post-war Junior event saw the new overhead-valve AJS in commanding form. Indeed, so good was the newcomer that Howard Davies rode it to a unique double victory the following year, winning both the Junior and Senior TTs.

In 1927 the works 350cc racers appeared with a new overhead-camshaft engine. The camshaft was chain driven, its distinctive cast alloy case extending forwards to the front-mounted magneto. A catalogued model from 1928, the 'cammy' AJS was built in 350 and 500cc capacities initially. A 250cc version followed, Jimmy Guthrie winning the Lightweight TT on one in 1930. Produced for only four seasons, the AJS overhead-camshaft racers were casualties of the Matchless take-over in 1931. This rare AJS K10 overhead-cam 500 was bought from a friend of his circa 1935/6 by the current owner's father, remaining in his ownership until his death in 1996 when it passed to his son. The latter's father was an engineer by profession and an enthusiastic motorcyclist who entered his long succession of machines in a wide variety of competitive events, often at Brands Hatch which was his local circuit and still a grass track at the time.One of the highlights of this motorcycle's varied competition career was a visit to Brooklands on 17th April 1937 when it was timed over the flying kilometre at 82.85mph and then entered in a race. Unfortunately, during the race there was a coming together with another competitor, whose footrest broke one of the K10's oil pipes, leading to a piston seizure and a broken con rod (the latter is still in the vendor's possession). The K10 was used on both road and track up until the outbreak of World War 2 when it was secreted away in a lock-up. It re-emerged in 1949, but as its owner was now a family man the K10 saw little use and was put away again until October 1978 when it was dusted off, overhauled and subsequently entered in the Banbury Run on a few occasions.

This machine comes with Swansea V5 document and old-style continuation logbook, while offered with it also are the original Binks two-jet carburettor (stamped 'K10'), the tank-top toolbox and a quantity of assorted spares to include a gearbox, magneto, camshaft, piston and the aforementioned broken con-rod. Also included in the sale are The Motor Cycle's guide to the Brooklands Clubman's Day (17th April 1937), this machine's BMCRC Brooklands Flying Kilometre Certificate, Cinque Ports Motor Club Race Programme and a period photograph of the K10 competing at the latter grass-track event, held at Upper Venson Farm, Eastry on 19th June 1938. Overhead-camshaft racing motorcycles of the Vintage period are rare; those with Brooklands history even more so, which makes this wonderfully preserved AJS K10, offered from careful, single-family ownership since the mid-1930s, all the more desirable.