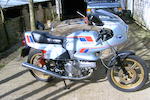 1980 Ducati 500cc Pantah SL
Registration no. UNM 225W
Frame no. 662039
Engine no. 601093
The first of Ducati's 'new generation' of desmodromic v-twins, the Pantah made its debut in 500cc form at the 1978 Cologne Show. Designed by Fabio Taglioni, the Pantah engine abandoned the Bologna company's traditional shaft-and-bevel-gears camshaft drive in favour of toothed rubber belts. With 46bhp available at the back wheel, the Pantah was capable of close to 120mph, which was some going for 500cc four-stroke in those days. A straight-tube trellis frame and triple Brembo disc brakes ensured that Pantah handled and stopped as well as it went in a straight line. New-for-1982, the 600cc version incorporated a number of improvements in addition to a 6mm wider bore, including a stronger gearbox, hydraulic clutch, Bosch ignition and Japanese switchgear and instruments. "The handling and roadholding are quite exceptional, there's nothing like a thoroughbred Italian for finding out how a motorcycle should really handle," observed Bike magazine. This Pantah 500 was restored at a cost of over £5,000 in 1993/94, the work including an engine rebuild (new barrels, pistons, 'heads gas flowed, etc) since when 8,000 miles have been covered. In storage for the past seven years, the machine has been running within the past two months but will nevertheless require re-commissioning prior to further use. A visually stunning example of a fast-appreciating transitional model positioned between the bevel-gear and later eight-valve twins.