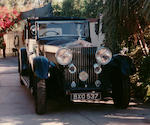 1933 Rolls-Royce 40/50hp Phantom II Sedanca de Ville
Chassis no. 115TA
Reputedly the last model that Henry Royce designed himself, the Phantom II debuted in 1929 featuring an entirely new chassis laid out along the lines of the smaller Twenty. Built in two wheelbase lengths - 144" and 150", the former being used for the Continental models - the low-slung frame with its radiator set well back enabled coachbuilders to body the car in the modern idiom, creating sleeker designs than hitherto. The six-cylinder, overhead-valve engine also had come in for extensive revision and now sported redesigned combustion chambers and a cross-flow cylinder head, the cumulative effect of these changes being greatly enhanced performance, particularly of the Continental.

Highly favored by prominent coachbuilders, the Phantom II chassis provided the platform for some of the truly outstanding designs of its day and this example wears versatile yet stylish sedanca de ville coachwork by Freestone & Webb, of North London, one of the finest of all British coachbuilders and a firm associated with quality marques from its earliest days, particularly Rolls-Royce, Bentley and Mercedes-Benz. In his definitive work, Rolls-Royce: The Derby Phantoms, Lawrence Dalton records that Phantom II chassis number '115TA' was completed in May 1935 for first owner W Graham Mutter. A right-hand drive model on the 144" chassis, the car is pictured in Dalton (page 262) wearing its original Hooper sports saloon coachwork, but when it acquired the currently fitted Freestone & Webb body is not recorded. The latter's sedanca canopy rolls up and is attached at the roof, while the internal division is manually operated. The rear trunk carries the spare wheel on its exterior frame which, combined with the long hood, endows that car with a pleasingly rakish Continental-style appearance.

The consignor purchased this car in England in 1977, the year of Her Majesty Queen Elizabeth II's Silver Jubilee celebrations. Always kept garaged, it has been serviced and maintained by well known Rolls-Royce specialist, Roger Ford and comes with bills for a repaint and magneto overhaul. The car is offered with State of California Certificate of Title.