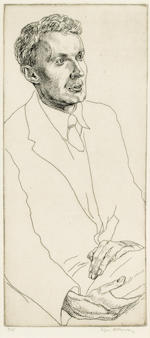 SPENDER, Sir STEPHEN (1909-1995, poet and critic)
TWO PORTRAITS:

(i) BY EDGAR HOLLOWAY R.E. (b. 1914),
etching, three-quarter length, seated, numbered 7 of an edition of 75 and signed in pencil below the plate by Holloway, extremely fine impression, 101/4 x 41/2 in ( 26 x 11.4 cm), platemark, etched in1969 from a drawing made in 1934.

(ii) BY CHRISTOPHER BARKER,
photograph, silver print, full-length, seated at his desk in 15 Loudon Road, London, leaning on his right hand, taken through the window with the garden wall, street light and opposite house reflected in the glazing, reproduced in Portraits of Poets by Sebastian Barker (1986), 143/4 x 101/2 in (37.5 x 26.7 cm).