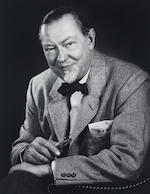 HANSON, HOWARD. 1896-1981.
Howard Hanson was one of the first composers entirely educated in America to receive international recognition for his works. Born in Nebraska, he studied at Luther College in Wahoo, the Institute of Musical Art in New York, and Northwestern University in Chicago. His first full time position as an academic was at the College of the Pacific in California, and during his tenure there he wrote The California Forest Play, his first work to receive national attention, as well as a number of other orchestral and chamber works.
In 1921 Hanson was the first recipient of the Prix de Rome awarded by the American Academy in Rome, and the award allowed him to live in Italy for three years, during which time he wrote Quartet in One Movement, Lux aeterna, The Lament for Beowulf, and Symphony No. 1 ("Nordic"). Upon returning home, he came to the attention of George Eastman, who chose Hanson to be director of the Eastman School of Music, a position he held for 40 years.
As a composer, Hanson was a leading practitioner of American musical romanticism, continuing in the style of the great 19th century Romantics with an emphasis on lush tones and melodic inventiveness. As a conductor, he was one of the most sought after orchestra leaders of the mid-twentieth century, conducting the New York Symphony Orchestra, the Eastman-Rochester Symphony Orchestra, and many others. As an academic, Hanson strived to build a balanced curriculum, bringing in better teachers and turning Eastman into one of the most prestigious music schools in the country.
This lot comprises the entire existing archive of the works of Howard Hanson, and includes autograph manuscripts of his musical compositions; corrected proofs of his musical compositions; decades of correspondence with other major musical figures regarding his work and the works of others; typed and autograph manuscripts of speeches and articles; drafts of his published works in various forms; photographs; personal papers; musical programs; and much, much more.
MORE TO COME.
Footnotes
Saleroom notices
Estimate: Refer to department.