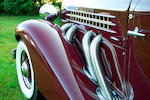 1935 Auburn 851 Supercharged Four-Door Phaeton
Chassis no. 33262H
By 1935, the Auburn was recognized as a true quality car, even if it sometimes languished in the shadow of the Cord 812 or the recently departed Model J Duesenberg that were its stable mates within E. L. Cord's automotive empire.

The ladder frame used live axles front and rear with semi-elliptic leaf springs all around. Steering was by worm and peg and drums were used inside each of the four 15-inch wheels.

For 1935, Auburn offered three basic engines: a straight-six, a normally-aspirated eight and a supercharged straight-eight. Displacing 279.9 cid, the side-valve eight featured an aluminum cylinder head and generated 150 horsepower with help from the Schweitzer-Cummins supercharger. Regardless of the engine, a 3-speed manual transmission was standard, while certain models offered a dual ratio Columbia rear axle.

Of the seven models offered in 1935, the 8-851, Supercharged Dual Ratio car was at the very top. Available as a Speedster, Cabriolet, Phaeton, Coupe, 2-door Brougham and Sedan they were comfortable and very quick cars for their day. Many of the bodies used by Auburn, Cord and Duesenberg, including the 851 Phaeton, were designed by Gordon Buehrig, who may be best known for his Cord 810.

An ACD-certified category 1 car, this model 8-851 Phaeton is supercharged and benefits from the two-speed axle. Sympathetically restored to a very high standard, it is finished in maroon with beige leather and beige canvas top. It starts and runs easily and well, but by all accounts it has not been licensed or used on the road since its restoration several years ago. The only departure from original specifications is the fitment of an electric fuel pump to ensure reliability. Although there are no known aesthetic or mechanical faults, because it hasn't been used since completion a full mechanical inspection is recommended prior to extensive touring.

The only time the current owner showed this lovely Phaeton, the car won best of show in 2004 at the Endicott Estate in Dedham, Massachusetts. Previously, it won a first prize in CCCA national competition, scoring 98.5 points.

It is beautiful, it is rare and it is a full classic that needs to be driven to events and toured in. The car comes with a factory service bulletin compilation from 1934-1937, as well as the Auburn factory parts list and specifications chart.