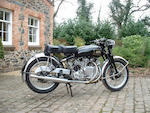 1948 Vincent HRD 998cc Series B Rapide
Registration no. LAU 626
Frame no. R3292
Engine no. F10AB/1/1302
Marketed as "The World's Fastest Standard Motorcycle!" the post-war Vincent Rapide was indeed a spectacular machine with a top speed approaching 120mph and this was in fact bettered by the later Black Shadows. With a pedigree dating back to the sensational Series A Rapide of 1937, the post-war Series B models were still more sophisticated, combining the engineering excellence of the pre-war models with up-to-date styling. Rollie Free captured the world's fastest production motorcycle record in 1948 on a tuned Black Shadow and that remarkable achievement provided the much needed boost to sales demanded by the accountants. In 1947-8 production was running at approximately 10 machines per week in a market hungry for Vincent's sensational V-twin. The new models bristled with innovative features including adjustable brake pedal, footrests, seat height and gear-change lever. The superlative factory finish was to the highest of standards, commensurate with the retail price which was almost double that of its contemporaries.

LAU 626 has been in the present owner's collection for 13 years, having previously been in the collection of the late Ernest Smith, founder of National Breakdown, and prior to that in the hands of Vincent enthusiast Bernard Gray, during whose ownership the bike was restored. Correspondence regarding that restoration and subsequent work carried out during the present ownership is on file and available for inspection.

This matching numbers machine was first registered in December 1948 with Nottingham CBC and appears to be to original specification in all major respects. It has not been used for two or three years although the vendor reports it was running well when last out. New tyres have recently been fitted. This all-time classic machine comes with a Swansea V5 registration document, photostat of old buff log book and a good history file. The correct stand and more period tyres have been fitted since photography.