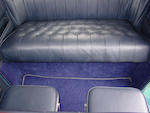 1910 Austin 18/24hp Endcliffe Tourer
Registration no. SV 9833
Chassis no. 480
Engine no. 487/80
General Manager of the Wolseley Sheep Shearing Machine Company, Herbert Austin set the Birmingham firm on the road to motor manufacture in 1896 when he designed its first automobile, a twin-cylinder tri-car. The first production Wolseley though, was four-wheeled and, like Austin's 1896 prototype, carried its single cylinder engine horizontally. Wolseley's directors did not share Austin's belief in the horizontal engine's virtues however, and he departed in 1905 to set up his own company at nearby Longbridge. Somewhat surprisingly perhaps, the first Austin cars were powered by conventional inline fours with side valves arranged in 'T-head' fashion. Chain drive was a feature of these early Austins, but was supplanted by shaft drive within a few years. As well as the fours, Austin also marketed a single-cylinder model and a few sixes prior to WWI. The 18/24 was Austin's third production model, made from 1907 to 1913, its engine being enlarged from 4.4 to 4.9 litres from 1911 onwards. Even in these early days the company was in the habit of using English place names for its various body styles. Austin had its own large coachbuilding department and offered a wide variety of complete cars.
This Edwardian Austin was first registered to Sir Henry Beyer Robertson, of Corwen, Merioneth, on 25th May 1910 and was acquired by the Austin Motor Company Ltd in the 1950s. Originally a detachable-top brougham, the car has since been altered to its present tourer configuration. It was totally restored by the Manchester College of Engineering & Technology in 1995-97 before going to the British Motor Industry Heritage Trust Museum, Gaydon. The vendor purchased the car at Bonhams' sale at the Museum on 29th June 2003 (Lot 59). At that time registered 'FF 1', a mark originally issued on 1st January 1904 to a Lanchester 10hp, it has subsequently been reregistered 'SV 9833'. Presented in excellent condition throughout, the vehicle has been used only sparingly since acquisition, but did attend the 100th Anniversary of Austin celebrations held in Birmingham in July 2005. The Endcliffe took part in the cavalcade, lead by a Herbert Austin's first car, a 1903 Wolseley 10hp, from the City Centre to Longbridge's Cofton Park. The vehicle is offered with photographs dating from the late 1940s/1950s, copies of registration records, MoT to May 2006 and Swansea V5 registration document.