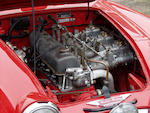 The ex-Rauno Aaltonen, Spa-Sofia-Liège Rally-winning, works
1964 Austin Healey 3000 MkIII
Registration no. BMO 93B
Chassis no. HBJ8/27573
Engine no. AEC 1457 RS 20877
BMC's development of the Big Healey for rallying started in 1958 with the 2.6-litre 100/6 model which debuted in that year's Monte Carlo Rally driven by Tommy Wisdom. By the time the new 2.9-litre 3000 model took over mid way through 1959, the 100/6 had demonstrated considerable promise, achieving a number of leader-board finishes, the best of which was Jack Sears' class win in the '59 Tulip Rally.

Development was facilitated by the transfer of Austin-Healey production to MG's Abingdon factory in 1957 and the decision to base the works' rally programme at the Competitions Department there under Marcus Chambers. Benefiting from the attention of MG's experienced engineers, the 3000 was progressively developed over the course of the next six years, before a change in the FIA's Appendix J regulations at the end of 1965 outlawed many of the special parts that had been homologated for competition use.

Although the Big Healey retained a separate chassis and body in traditional sports car fashion, for rallying these two components were welded together to form a structure of greatly increased strength and rigidity. Wherever possible, body panels - wings, doors and bonnet included - were fabricated in aluminium rather than steel to save weight, while from 1960 the boot lid was moulded in glassfibre, gaining a distinctive upward extension to accommodate twin spare wheels. To protect the low-slung under-body, 'bash' plates were invariably employed. This lack of ground clearance was the car's greatest weakness, explaining the works' policy of running them 'nose up' to avoid grounding the sump. Lack of rear suspension travel was another disadvantage, not addressed until the introduction of dipped chassis side members from late 1963, a modification that later found its way onto the 3000 MkIII Phase II production model. Other essential competition modifications included four-wheel disc brakes, close-ratio gears and a limited-slip differential.

Early works 3000s used engines that retained the production version's cast-iron cylinder head, twin SU carburettors and full-length exhaust system, developing around 160bhp. The adoption of a short side-exit exhaust system was one of the earliest modifications, followed by triple SUs, fabricated tubular exhaust manifolds, aluminium cylinder heads and triple Weber carburettors. These latter two modifications arrived in 1962, and in this ultimate specification the maximum power output had risen to around 210bhp.

The Big Healey's first major success was gained in 1960 when Pat Moss, partnered by co-driver Ann Wisdom, having finished second in the Alpine, then made history by winning the gruelling Liège-Rome-Liège (Marathon de la Route) event outright. It was the first occasion that a woman had won a major international rally. The following year the Morley twins - Don and Erle - won the Austrian Alpine Rally outright, a feat they repeated in 1962. Big Healeys were regular class winners and frequently took the team ward, though in the face of increasing competition, not least from the Mini Cooper, outright wins were comparatively few. The car's final outright victories came in 1964 when Paddy Hopkirk won the Austrian Alpine Rally and Rauno Aaltonen the last Marathon de la Route held on public roads, which on this occasion followed a Spa-Sofia-Liège route.

That final victory was gained by the car offered here, 'BMO 93B', which was built as part of a three-car team for the 1964 season (the others being 'ARX 92B' and 'BRX 852B') and is one of only four of its kind to win an international rally outright. All three cars survive and were reunited for the first time since 1964 at the Austin-Healey 50th Anniversary celebrations at Thruxton in July/August 2002. This car's concluding event for the works team was the 1964 RAC Rally, in which it finished 21st overall crewed by the Morleys. It was sold by the Competitions Department at the season's end to Pauline Mayman, herself a works driver for BMC, and subsequently was owned by John Gott, from whose deceased estate it was acquired by Arthur Carter over 30 years ago.

Finished in the BMC works team's red/white livery, 'BMO 93B' has the works alloy cylinder head, triple Weber carburettors, inlet manifold and close-ratio gearbox, and represents a rare opportunity to acquire a genuine, historic, ex-works, international rally-winning Austin-Healey possessing excellent provenance.