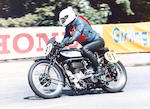 ex-Ron Harris, Senior Manx Grand Prix
1937 Norton 490cc Manx Specification Model 30
Frame no. 83156
Engine no. 80210
When the clerk in the Despatch Office at Norton completed the despatch
records on 20th August 1937 it is unlikely that he or she could have
envisaged the success the the 'full Manx spec.'Model 30, Frame no.
83156,would enjoy on the circuits and still less likely that he or she would
believe that some 67 years down the line this racing machine would remain so
remarkably original and with all matching numbered components, following an
active competition career.

Invoice no.F69271 was sent to Ron Harris and upon taking delivery Harris had
just three weeks or so to prepare the machine for the Senior Manx Grand Prix
and to master the niceties of handling of his new 490cc Model 30 with every
latest factory specification update. Harris, although only 30, was a veteran
of the Senior Manx having competed each year since 1930 and was no doubt out
to beat his previous best performance - 3rd in 1934. That he did not
achieve but he rode a highly consistent race, lapping at 78 or so m.p.h. and
riding to a creditable 5th position behind the all-dominating Nortons of
Cann, Bills, Rowell and Foord at an average speed of 78.49m.p.h. The Motor
Cycle magazine of 16th September 1937 depicted Harris on this machine
rounding Brandish Corner in hot pursuit of E.G.Smith's Norton.
Harris was out again at Brooklands in October that year, riding his Norton
to a 3rd place (see photograph) and indeed was to enjoy a competition career
riding Nortons, Velocettes and Moto Guzzis until 1947. He was to be the
proud winner of no less than 10 Replicas in his racing career.

Although the precise dates of ownership changes in post-war years are not
recorded, it is believed that the bike had just two owners prior to
acquisition by Norton enthusiast Eric Biddle from whom the present owner
acquired the machine some 30 or so years ago. During this meticulous
ownership the bike has been superbly maintained, gently (relatively!)
paraded and took part in the first Isle of Man Lap of Honour and several
subsequent such events, including the notable 1989 parade when George Meier
paraded the 1939 Supercharged BMW. When shown in concours events it has been a consistent premier award winner and can only be described as being of
museum quality and as close as is possible to its condition as it passed
before the despatch clerk at Norton in August 1937.

This historic machine is offered with a history file, copies of extracts
from The Motor Cycle of 1937 and a Science Museum Library extract from
Norton's 1937 Despatch Book. The bike is fully ready for more parading,
subject to all the usual checks, and is sure to be at the top of the
invitation list for the most prestigious historic events.
Saleroom notices
A set of new/old stock engine gaskets will be supplied with the machine. We would like to thank Mortons for allowing the use of the image of Ron Harris at Brooklands in 1937.