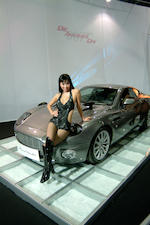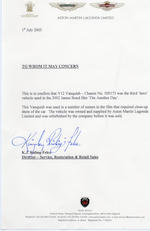 The ex-James Bond 'Die Another Day'
2002 Aston Martin V12 Vanquish Coupé
Registration no. AU03 CRF
Chassis no. SCFAC13372B500172
As Brough Superior is to Lawrence of Arabia and Ferrari is to Michael Schumacher, so the name of Aston Martin is inextricably linked to Bond ……. James Bond.
Aston Martin's dramatic supercar V12 Vanquish Coupé was the obvious first choice for Britain's best-known secret agent Bond to drive in the EON Productions film, Die Another Day, Pierce Brosnan following in the distinguished footsteps of Sean Connery, whose favoured luxury high-speed sports car in Goldfinger was the DB5, and Timothy Dalton, who drove a V8 Volante Convertible in The Living Daylights.
For Die Another Day EON Productions commissioned three production Vanquishes, chassis nos. '172', '173' and '174' to become 'hero' cars for the close-ups of Pierce Brosnan as James Bond. Strikingly presented in Tungsten Silver livery with charcoal leather interiors, Linn audio systems and brushed aluminium centre consoles, what better cars could have been chosen to reflect the suave character of the sophisticated, up-to-the-minute and dashing secret agent – Bond.
These three cars had a relatively easy life during filming and were used exclusively for close-ups, being spared the dramatic and punishing stunts and chase sequences which were the province of vehicles commissioned by EON special effects department. These were four-wheel drive, Ford Explorer-based vehicles with Vanquish coachwork. Two of the special effects vehicles survive, remaining the property of Aston Martin Ltd and neither can be sold or registered for road use.
All three of the V12 Vanquish Coupés survive. '172' was sold by Bonhams in May 2003 and is in private museum ownership. '174' remains in the ownership of MGM/EON and this car, '173', with a nominal recorded mileage of just 380 miles, now comes to the market from private ownership.
During the present ownership '173' has been in constant demand for exhibition appearances. It has been displayed on the world stage at the Riga Motor Show in Latvia, the Max Power Show at the N.E.C. Birmingham and the Hollywood Motor Show in Seoul, Korea, in each case the James Bond supercar being the main focus of public attention and clamour. Those essential secret agent accessories of twin machine guns (dummy of course), forever identify the car with Bond, although these can easily be removed should a new owner require anonymity.
'173' comes to the market superbly presented in a condition commensurate with its 380 recorded miles and is for all intents and purposes a new car with distinguished history. It is offered with a letter of authenticity from Aston Martin Lagonda Ltd, confirming that history. Although a registration number has been allocated to this car, U.K. purchasers should note that VAT on the hammer price will be payable upon first registration.