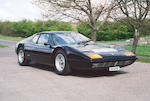 1976 Ferrari 365GT4 Berlinetta Boxer
Registration no. 365 ANP
Chassis no. 19343
Engine no. 19343
Faced with having to pitch its front-engined Daytona supercar against the mid-engined Lamborghini Miura and Maserati Bora, Ferrari responded boldly with the 365GT4 Berlinetta Boxer. Unquestionably one of the greatest Ferraris ever, the Boxer debuted at the 1971 Turin Show in prototype form and commenced production in 1973 almost unaltered. An entirely new model and the first road-going Ferrari not to have a vee-configuration engine, the 356GT4 BB reflected Ferrari's motor racing heritage; its 4.4-litre, four-cam, 'boxer' engine drew on experience gained from Maranello's World Championship-winning, flat-12 F1 and sports-racing units and developed 360bhp at 7,700rpm. A combination tubular/monocoque chassis housed the engine/five-speed transaxle package that ingeniously placed the motor above the gearbox and final drive, thus avoiding an overly long wheelbase. The mid-located engine gave near-perfect balance and ensured that the Boxer's handling matched its stupendous straight-line speed. Rumours abounded that the prototype had run at over 180mph, and even though the production version managed 'only' around 175mph, there can have been few disappointed customers. Only 367 Ferrari 365GT4 BBs were constructed before the model was superseded by the 512BB in 1976.
Believed the last example imported into the UK, this rare, righthand-drive Berlinetta Boxer has been maintained by Foskers, at Brands Hatch, since 1998 and was acquired by the vendor in 2001. Some 2,500-or-so miles have been covered since 1997, making the total to date a mere 17,608. The car has been carefully maintained from new and there is good accompanying service history, including assorted MoTs dating back to 1988. The last full annual service was in 2002, when the cam-belts were changed. Finished in nero with matching black leather interior, its original colour combination, the car is presented in 'perfect' condition in every department. It is offered with the appealing '365 ANP' registration mark, sundry invoices, current road fund licence, MoT to May 2003 and Swansea V5.